Mathons Presents the Echoloop VST Plugin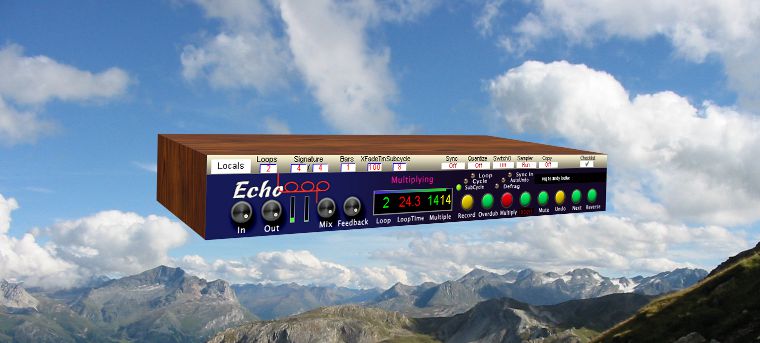 Perhaps the most anticipated piece of software ever to be unleashed into the world of live looping.
A Re-Creation of the Gibson/Oberheim Echoplex Digital Pro, by it's Inventor Matthias Grob
Containing all the features of the EDP, the Echoloop puts a whole new world of possibilities under the control of just a few virtual buttons. The only looper specifically designed so that your music can grow organically as you play and listen, and the only looping device designed with the input of a whole community of creative looping musicians over more than a decade.
...and the good news is, as it's software it's no longer limited to the outdated 1990's hardware
It's stereo.
Run as many as Echoloops you like (synced together).
Quality...as good as your audio interface.
Number of loops, and max loop time depends only on memory available.
Control by Midi, even the simplest foot controller can be used.
Donationware, with a price to suit your pocket.
DOWNLOAD & DONATE
Chop-Plugs our range of beat-sensitive Effects
Each plug-in the the Chop-Plugs range uses our Level Independent Attack Detector (LIAD) code that detects the attack of notes incredibly quickly. In the studio, Chop-Plugs produce effects that are synchronised to the feel of the music. The ultra fast response times mean that Chop-Plugs are ideal for live use, using low latency pc/mac, or the new vst supporting hardware devices.
The central graphic display give a real-time indication of how the control settings interact, this makes it much easier to understand how to set up the sounds that you want.
Chopitch, a dynamic pitch down shifter for instruments with percussive attack, works without latency, and without the usual harmoniser type sound artifacts.

An amazing remix tool, totally transforms any beat.
New sounds from percussion instruments, live and in the studio.
Play bass lines on any instrument!

MORE INFO AND DEMO SOUNDS

DOWNLOAD SOFTWARE
All the usual panning effects, and a whole lot more.

Using our LIAD technology the plug can synchronise to the beat, and apply spatial processing to each note, in a variety of patterns. With many additional options to synchronise to the tempo of your music as defined by your vst host, Chopan takes an old idea and gives it a new lease of life.

MORE INFO AND DEMO SOUNDS

DOWNLOAD SOFTWARE
FOR 2013
available ?????

Up and coming is Chophiltre, an autofilter with similar controls to Chopan, that's finished and just waiting for us to sort out the purchasing system. There'll also be a delay plugin with a totally glitch free varispeed, that working great and just needs a GUI. Then there's the new pitch shift algorithm that Andy worked out for the hexaphonic plugins...watch out for a stereo/mono plugin.

Stay connected!